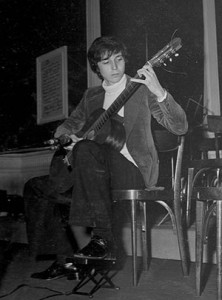 Born in Rome, graduated in classical guitar at the Conservatory of Santa Cecilia under the guidance of Carlo Garfagna, he has the Chair in Classical Guitar at Conservatory Lorenzo Perosi in Campobasso (granted with a state examination).
He teaches Classical Guitar at "Accademia Tarquinia Musica" in Tarquinia (Viterbo), Classical Guitar and Chamber Music at "Scuola Popolare di Musica Donna Olimpia" in Rome and he is registered in Siae as Composer and Author.
In the training years he attended some courses of musical interest: in Classical Guitar – Recanati 1978, directed by Mario Gangi and Carlo Garfagna; in Composition – Cortona 1983 directed by Franco Donatoni; in Ethnomusicology – Roma 1986 directed by Diego Carpitella.
Since 1975 he is active as concert performer in Italy, in many European countries and in North-Africa and also as composer, author and musicologist.
In 1983 he created "Il Trio Chitarristico di Roma" with Ferdinando Lepri and Roberto Felici that at present is composed by Fabio Renato D'Ettorre,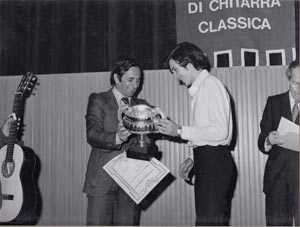 Ferdinando Lepri and Carlo Biancalana. Instead of Carlo Biancalana, over the years and in turn, Roberto Felici, Arturo Tallini and Marco Cianchi played in "Trio Chitarristico di Roma" and in more than thirty years of experience they have gone on the most important Italian and foreign stages and made several recordings for Musikstrasse, Edipan, Domani Musica, Dotguitar. Among them we remember: "Luci ed Ombre. Renato D'Ettorre" (Musikstrasse 2005), he is the author of whole music, "Rara musica del '900" (Musikstrasse 1997), winner in 2006 of the recording competition "CD Major Città di San Lazzaro" set up with the University of Bologna.
First Prize at "Rassegna 1984 per Compositori dell'Associazione Amici della Musica della Penisola Sorrentina" with the musical piece "Variazioni e Finale su tema di Lennon-McCartney", he has also written numerous compositions and transcriptions for his instrument.
Since 1988 he has worked as music critic and musicologist with dailies and magazines such as: Amadeus, Il Fromino, Guitart, and Piano Time.
He has also lectured about musicological essays in Schools of Music in Rome, at University of Tor Vergata, at Casa -Museo Giuliani in Bisceglie (Foggia), for the "Associazione Culturale Gabriel Marcel", for the "Consorzio Universitario Mediterraneo Orientale" in Noto (Siracusa) and at the Conservatories in Trento, Riva del Garda, Foggia, La Spezia and Campobasso.
He has been the curator of historical-musicological notes for the concerts at the "Oratorio del Gonfalone" in Rome, one of the most prestigious circuits for Chamber Music in Rome. Sometimes he is called to play the role of jury commissioner in national and international musical contests.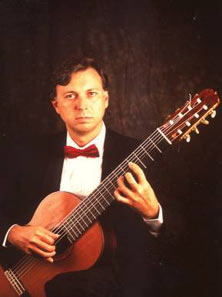 In 2005 he planned and attended to the cultural event "Mazzini pensatore, umanista, musicista amatore" for the bicentenary of Giuseppe Mazzini's birth with a series of initiatives performed at the Conservatory Bonporti in Trento and Riva del Garda where he teached.
The event was held under the aegis of the "Comitato Nazionale per le Celebrazioni del Bicentenario della Nascita di Giuseppe Mazzini" and under the High Patronage of the Republic President.
In that occasion he wrote and performed "L'Italia suonò", a theatrical and musical opera on Mazzini as an amateur musician, played in several Italian cities and at Teatro Argentina in Rome.
As author he also signed with Patrizia La Fonte the text "Caro Millenovecento. Ricordi e accordi del secolo breve", a narrative concert for reciting voice and three guitars recalling the twentieth century with words and music and performed by Patrizia La Fonte and the "Trio Chitarristico di Roma".
In 2013 he was a guest of Studio A Radio Vaticana Musica with the collegues Cianchi and Lepri for a cycle of radio broadcasts about the thirtieth anniversary of "Trio Chitarristico di Roma".
In 2014 he made some radio appointments with the title "Musica su sei corde", as guest of Fabio Picardi.
At the Conservatory Puccini he created the "Ensemble da Camera con Chitarre" that ran for six years and for which he has developed a series of musical arrangements by Latin and American authors.
With these musicians he has executed some public performances in La Spezia and a recording for Radio Vaticana.